On Site Computer Repairs.
The experts at On Site computer repair. We are in the computer business for over 20 years and chances are that we will make your computer behave.
We are providing our services in the good old American way:
If we don't fix your computer - You will not pay us a penny.
This is how we repair computers: You call and we schedule an appointment. We will arrive to your site, clean and neat, and will diagnose your computer. Within about 5 - 10 minutes we'll get an idea of what kind of computer repair is needed and how long would it take. We would then share our finding with you and will ask you if you want us to fix your computer. If you choose to do so we will repair your computer, otherwise - we are leaving and you will not pay a penny - not the visit nor for diagnostic.
If we will not fix your computer - you will not pay us a penny!
A Decent, Straight, Quality On Site Computer repairs.
Call us at 818-262-5621!
People who worked with us - our customers, would give you tones of stories about computer problems that we have successfully resolved for them:
You would hear stories about Computers with life time worth of data that would not boot, Pictures that was lost, Computers having the ugliest pages on the Internet popping up out of control, printers that would not work, dead scanners, erased hard drives, lost passwords, pop up windows. We fix it all.
Often, after we're fixing computers they are working so fast that the clients would cancels their plan to buy a new computer. A real help in today's economy.
We uses advanced methods of all kind to resolve computer problems, and we are confident enough to take the risk on ourselves and state it clear - If we cannot fix your computer - you'll not pay us a penny. Not for the visit and not for the time.
We do want you to know that many computer problems can be resolved over a phone call. Call us. We do not charge for phone calls, and you have fair chances to resolve your computer problem right there. All we ask in return is that you'll keep our card and number, so when a challenging computer problems will come your way - you would call us first.
Call us at 818-262-5621!
Calling us is FREE, and in many cases can instantly resolve the problem.
Cities we are servicing:
Thousand Oaks
Oak Park
Agoura Hills
Calabasas
Malibu
Woodland Hills
Encino
Tarzana
Sherman Oaks.
To get you a taste of our service, here are a few real computer problems we have fixed for a real customers:
4.8.10, Steve, Agoura Hills: He called and report of several problems: Takes about 5 minutes for the computer to boot, A Kodak printer would not scan documents, QuickBooks can print reports but would not print checks at all. Computer diagnostic revel a good DELL computer that was totally out of tune. Slow boot that would take minutes, open Internet Explorer could take about a minute... When we left after performing computer tune up, the computer would boot fast, QuickBooks would print the checks and the Kodak printer would scan in documents and pictures. Steve end up with such fast computer that he cancel a plan he had to go and buy new one.
April 5th, 2010, Paul, Thousand Oaks: He called with a slow boot computer running Vista. It was practically unusable. On that computer were years of documents, pictures and business information. After a couple hours of work on the computer, removing multiple anti spyware and antivirus software, uninstall all kind of unused programs, clear temporary files and repair the computer's registry the end up computer working faster that when first installed and the client avoided the need to buy new computer and reinstall all his program and data.
4April 2nd, 2010, Bob, Westlake Village: An older but fast HP computer with Windows XP. Computer would boot but not functioning at all. All kind of unusual error messages pops each time we try to run a program. No Email, no Internet. A short investigation found about 136,000 small log files in the root directory, placed there due to a incorrect setting of one of the programs that are used in this machine. A lot of patient and a DOS window needed to clear that mass... Once cleared, the computer got cleaned up and defragged and is now running faster than at first installation. Again the need and headache involve with buying a new computer was eliminated - Bob will be able to run this machine for the next 3 -4 years without any problems.
Marc 25, 2010, Kenton, Sherman Oaks: Office, has a network of 5 computers. Server become slow beyond usability due to professional software installed on it. A new computer was recommended, but the problem was that the installation CDs needed to reinstall all special programs was missing. When the new computer arrived, a special method used to migrate the old machine to the new one, work was done at Saturday, and by Monday when workers arrived to work no one could tell that the server was replaced - the only thing the notice a a much faster speed of their system.
January 5, 2010, Uri, Oak Park: Customer has home network with about 9 computers. When called me first time, his main machine was in grave condition, and his previous IT found no solution for it. There was no backup, and important information was at risk. Printers would not print properly, scanner would not function. Entire network was nothing but a mess. When project completed, he has backup for all his computers, his main computer is as fast as new, all printers are working and a special server with private html application was set locally and peace came to his home.
October, 2009, a 3 Million dollars business, Canoga Park: This business had 10 workstations, 2 servers, a $1500 T1 line, and nothing functioning right. There was no backup, no security for users, data scattered over workstations and useless $1500 T1 line. Project took few weeks, and by the end the business have secured network, proper user rights for employees, 100% backup and the T1 line was canceled and replaced with a $90 a month DSL that is fast enough so no one knows the different.
Call us at 818-262-5621!
Calling us is FREE, and in many cases can instantly resolve the problem.
Some of the computer problems we services are:
Troubleshoot computer problems, hardware and software.
Troubleshoot and setup Networks, Wireless networks and firewalls.
Perform upgrades, hardware and software.
Reinstall operating systems, Ghosting computer hard drives.
Virus and Spyware removal.
Crash detection.
Backing up systems.
Computer tune up and speed up.
PC Repair
Computer repair service
Computer Service
Network Installation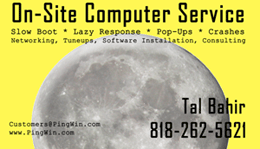 Call us at 818-262-5621!
Calling us is FREE, and in many cases can instantly resolve the problem.
We literally are repairing computers at our clients' location - home and offices.
My company deals with the computer problems - the front of technology, in the good old way: If we do not solve your problem, you'll not pay a penny, regardless of the amount of time we spent trying to fix your computer.
The scope of our services is wide: It starts with resolving single desktop computer problem and end up with setting up servers and networks of up to 100 workstations.
My experience with computers goes 25 years back - from the DOS days and 120 kilo byte 5.25 floppy disks all the way to Windows 7.
This is how our system works: Upon your call, we will set time and I'll show up at your location. I will then inspect your computer and tell you what I think the problem is, and what will it take to resolve it. At this point, it will be your choice to ask me to stay and fix the problem, or, if for whatever reason you chose not to fix your computer with me - I will leave, and you will not pay me a penny for the visit.
You should further know that if after an hour or two of trying to fix your computer I'll get to conclude that this is not possible - you still pay me nothing.
You only pay if the problem is resolved. Plan and simple.
To sum it all up, working with my company is as risk free as possible, and the probability of your computer being repaired is as high as it gets.
So - Pickup your phone, and give me a call.
That would be the best bet on getting your computer repaired.
Call us at 818-262-5621!
Calling us is FREE, and in many cases can instantly resolve the problem.